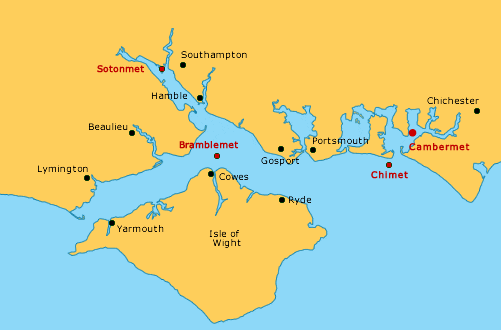 Our Charter Cruising areas and pricing
Hamble Powerboat Charters cruising areas include the entire Solent area and beyond and fall into three categories of Local, Wider and Extended areas. Our pricing reflects these areas and the distances we cover during day charters
Our entry level local area charters are an inexpensive way to enjoy a full day charter on board a luxury motor cruiser at a reduced cost.  Formerly known as a "Charter Taster" the local area weekday charter will be our exciting new entry level pricing on all our boats. We will therefore be withdrawing our "Charter Taster" over the next few weeks.
Local area charter:
A typical local area charter departs from Hamble at 10 am cruising across the Solent and along the IOW coast East toward Wooton Creek before returning to Osborne Bay to drop anchor off the beach.  From there we will head around to Cowes where we will berth at Cowes Yacht Haven for lunch* After Lunch we'll cruise back out into the Solent West toward Thorness bay then back across back the Solent toward Lepe and round Calshot spit before returning to Hamble at around 5PM
*As Covid restrictions begin to ease Cowes Yacht Haven is accepting short stay visitors and guests can collect high quality takeaway food from the Coast Bar or pick up lunch in Sainsbury or bring your own picnic to enjoy on board Allegro in the calm conditions with the Marina alongside sailing boats and motor cruisers.
Wider area charter:
Or wider area charters cover the whole Solent area from Bembridge in the East to the Needles in the West.
A typical wider area charter departing from Hamble at 10am might include a trip East to Seaview and Bembridge Harbour, and a lunch from the the Best Dressed Crab harbourside restaurant . Or West to Newtown Creek,  Yarmouth,  or perhaps The Hut Restaurant at Colwell Bay and a trip in the late afternoon to Alum Bay and the Needles before returning to Hamble for around 6PM or thereabouts.
*As Covid restrictions begin to ease Marinas on the Isle of Wight are beginning to accept short stay visitors and guests can also collect high quality takeaway food including the fabulous Hut Hampers which are incredibly popular at the moment and are delivered direct to the boat when pre-ordered. Or guests bring their own picnic* to enjoy on board.
Extended area charter:
Our extended area charters go beyond the Solent area to Poole and Studland Bay and even further afield to the West Country and beyond*
An extended area charter departing from your chosen location  allows guests to enjoy the South Coast in style and overnight stays can be added to create a mini break or holiday.  Extended trips are available on Bianca Lucida only contact us for details.
*fuel supplements may apply for extended cruising.
*As Covid restrictions begin to ease Marinas along the South Coast are beginning to accept short stay visitors and guests can also collect high quality takeaway food from waterside restaurants. But at the moment overnight stays in marinas and indeed on board boats are still not allowed. But that doesn't mean we can't visit Studland Bay in a day from any number of Solent Ports