Skippered charter boat trips and, overnight stays on board
Hamble Powerboat Charters provide skippered charter boat trips on board large, stylish motor cruisers, all at competitive rates.
Our boat hire charter packages range from:  Charter "taster" experiences, day charter experiences, VIP champagne experiences and overnight stays on board.
Charters are on board "Allegro",  "Explorer" or on exciting RIBs.
Click for Pricing for Allegro , Pricing for Explorer or Contact us  now for more information.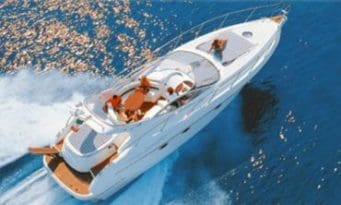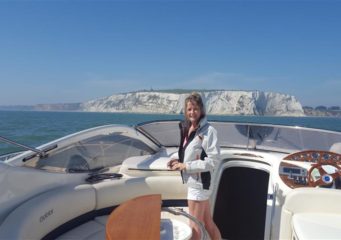 Allegro at 13.4m in length has a large entertainment space on deck and is perfect for soaking up the sun. There are two fridges for cold drinks,  a large seating area and two sun beds, one on the foredeck and one on the stern. Below deck is a luxury galley and saloon with cream leather seating,  two bathrooms and two large bedrooms. Allegro has a full cover to provide a bimini shade or full weather protection as well as hot air blown heating.
Day charters offer a full day on board Allegro and the opportunity to go further afield and visit Isle of Wight ports and marinas such as Bembridge, Yarmouth or Beaulieu. Or popular "trending" restaurants such as "The Hut" at Colwell Bay. Where we anchor in the bay and guests go ashore by RIB.
Day charters begin at 10:00 AM and include your choice of Solent harbour destinations, picturesque bays and inlets as well as waterside restaurants. With plenty of sightseeing, and time to relax on board throughout the day.
We usually return to Port at around 6:00 PM but we are flexible on timings to suit our guests.
Options on weekdays (Mon-Thursday) and weekends (Friday-Sun)  Please go to our Shop for day charters on board Allegro.
Our charter prices are fully inclusive of:
Crew
Fuel
Complimentary drinks on board
Lunchtime stopover at an Isle of Wight destination
Up to 10 persons on board*
Parking
For more photos have a look at "The Fleet" and our "Gallery" page.
Contact us now for more information and to check availability.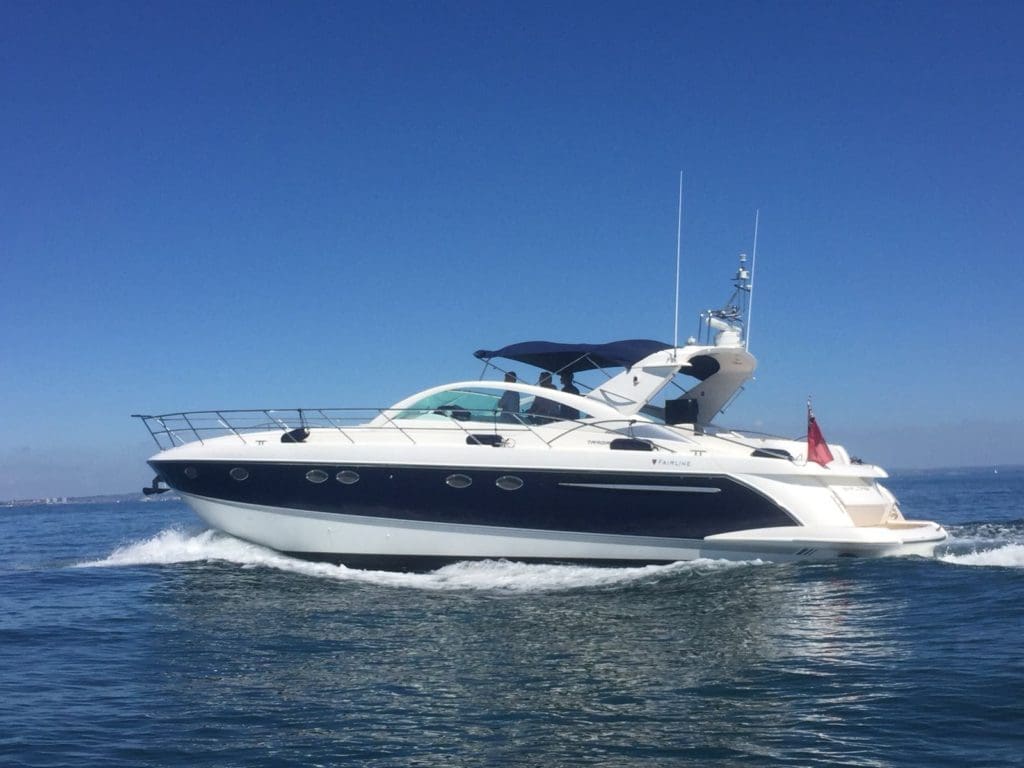 Explorer at 16.0m length is an exceptionally well appointed and very large luxury open cruiser from one of the UK's premier builders. With plenty of deck seating space, as well as a  large saloon below deck. She is perfect for entertaining and for impressing guests and colleagues.
Day charters depart from Port Solent Marina and include a Solent cruise to idylic locations on the Isle of Wight. Such as Osborne Bay,  marinas at West Cowes Yacht Haven or other historic ports and picturesque towns such as Yarmouth or Bembridge. Guests can  enjoy lunch ashore with time for sightseeing and  relaxing on board.  With spectacular events going on throughout the season there is always plenty to see.
Day skippered charters on board Explorer are offered in conjunction with one of the UK's premier maritime training organisations. With highly experienced RYA Instructors as crew on your boat trips. Guests can also pre-book RYA training and refresher courses as part of their trip if they wish.
Day charters are from approx: 10:00am to 6:00PM
Options are available on weekdays (Mon-Thursday) and weekends (Friday-Sun). From £1450.00 Go to our Shop for day charter prices on board Explorer
Our charter prices on board Explorer are fully inclusive of:
Crew
Fuel*
Complimentary drinks on board
Lunchtime stopover at an Isle of Wight destination
Up to 10 persons on board*
Secure parking
* Fuel inclusive for approx. 50 mile return trips to popular destinations.
For more information and photos have a look at "The Fleet" and our "Gallery" page. Contact us for more information and to check availability. A deposit secures your booking.
Charter "Taster" Experience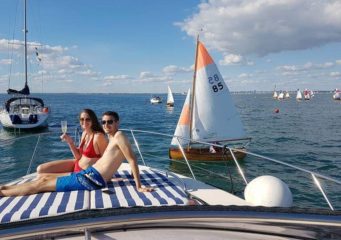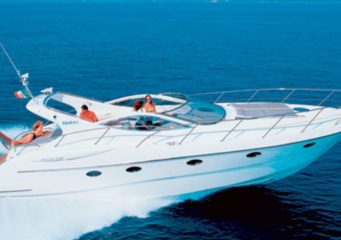 Our popular charter "taster" experiences are an inexpensive way to get the full experience of a luxury charter boat hire and they also make a great gift.
Includes a stop over at Cowes Yacht Haven alongside sailing and racing yachts and motor cruisers. It's just a two minute walk to Cowes High street where you can enjoy lunch in one of the many great restaurants and pubs, as well as  some sightseeing along the Victorian promenade.
Available throughout the year except during major events such as Cowes Week, the round-the-Island race and SailGP. when our day charter rates will apply.
Parties of up to ten guests are just 650.00 on weekdays and 750.00 at weekends. Fully inclusive, nothing else to pay!
River Trips and Cowes Trips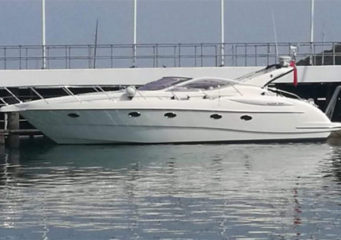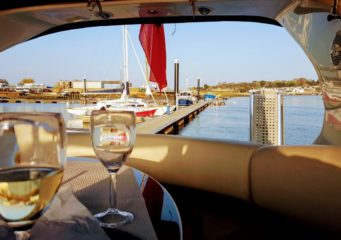 We will occasionally run special Hamble River and Southampton Water cruises. These will be for short periods throughout the season including our annual Hamble Lifeboat Fund Raiser river trips.
These trips are priced "Per Person" . Enjoy time afloat with family and friends. If you can get together a group and would like a low cost per person option for a trip on a luxury cruiser message us.
Contact us or message use on our Facebook Page. Or lookout for dates of our annual Hamble Lifeboat Fundraiser usually in September.
Minimum numbers needed to run these trips.
Overnight Stays on board Allegro
For that special treat or to relax and unwind before or after your day why not book a luxury overnight stay on board Allegro. (see gallery)
Charter customers also have the option to extend their charter with an overnight stay on board Allegro at fantastic locations .
Price includes:
Exclusive use of the whole boat, sleeping in one or both of the en suite double cabins.
All linen, towels and soaps on board plus use of the berth holders luxury facilities.
Breakfast of croissants, coffee, tea, orange juice
A complimentary bottle of wine (or non-alcoholic sparkling fruit drinks) .
Prices are from:
Two guests whole boat sleeping in one double cabin: 205.00 weekdays. 225.00 weekends per night. discounts for 2nd night.
Four guests whole boat sleeping in two double cabins : 295.00 weekdays 325.00 weekends, per night. Discount for 2nd night.
Contact us now, to reserve a date and book direct via our Shop. Special offers are available for guests who stay on board as part of a combined charter and overnight stay experience.
Lunch and Evening dining
Our extensive knowledge of local restaurants means we can recommend and pre-book guests at the best venues at our cruising locations.
Fully inclusive VIP gourmet break for 4 guests.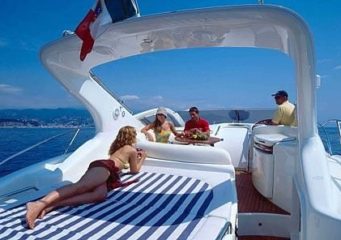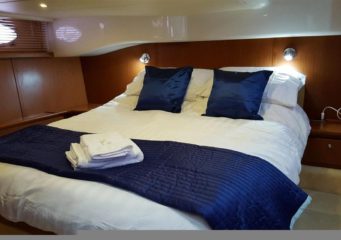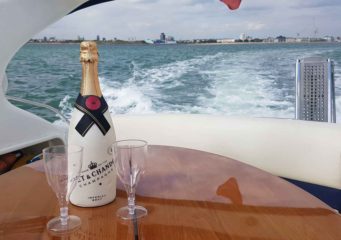 This is our most luxurious experience for four guests
Your experience begins with champagne and canapes on board Allegro upon arrival during the afternoon. You will then have time to settle in on board before your pre-booked inclusive evening meal in a fabulous waterside restaurant. You will then enjoy an overnight stay on board and continental breakfast to start the next day.
Your two crew and dedicated hostess will arrive in the morning to prepare for your daytime cruise.
As we get underway and pass through the marina lock gate we will pass the Roman castle of Porchester and head south through Portsmouth Harbour, past the historic dockyards and ships and the Spinnaker Tower before heading out into the Solent.
You will be served chilled wine as we cruise to our planned stopover for an inclusive lunch ashore, at a pre-booked restaurant.
Lunch destinations on our boat trips include Cowes, Bembridge or Yarmouth on the Isle of Wight or alternatively lunch can be taken at picturesque Hamble-le-rice on the Hamble River or Historic Bucklers Hard on the Beaulieu River.
Additional nights are available and the package is available during prestigious Cowes Week.
All inclusive pricing for four persons:
1595.00 weekdays to 1795.00 weekends / bank holidays.