The Hut restaurant at Colwell Bay on the Isle of Wight.
The restaurant is set on the waters edge at Colwell Bay at the North Western end of the Island, about two and a half miles from the Needles. The terraced restaurant allows uninterrupted views to the West and therefore gets the sun pretty much from midday on during the day. In the evenings the spectacular sunsets need to be seen to be appreciated. That's the thing about The Hut, not many folks know that such places exist so close to London, it really does feel a world away from the City.
The building is a pastel colour wooden boarded gem with a laid back vibe enhanced by the music played throughout. I'd call it a mixture of chill out and Jazz and while I'm no expert, I do know it fits perfectly with a gin and tonic or a cold beer on the front terrace.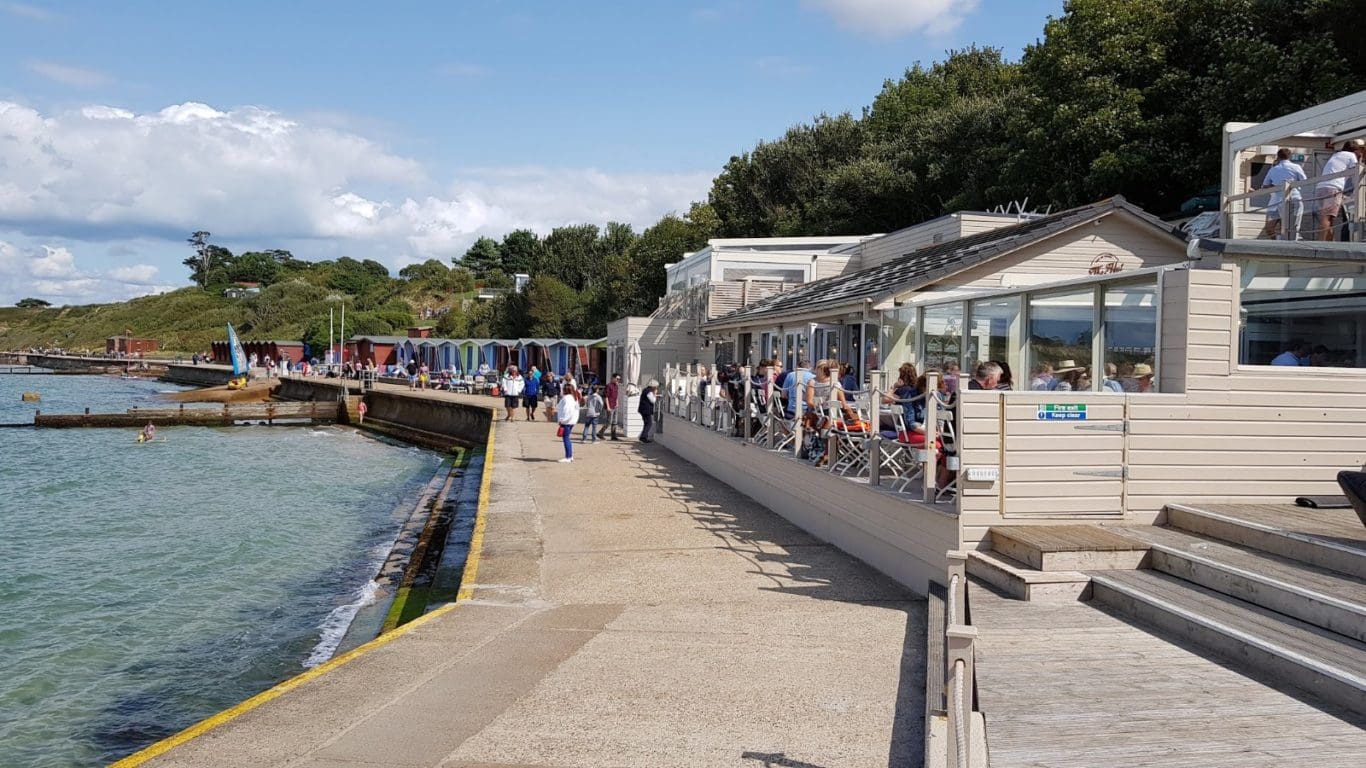 The restaurant is spread over two stories and has four main areas, the bar and front terrace, with an area to the right with a number of tables and perfect for small gatherings. This has a sliding electronically operated roof. Upstairs and set a little further back there are two areas both of which can also be hired for private functions. The smaller upper terrace for about 25 and a larger upper terrace area seating about 70 persons.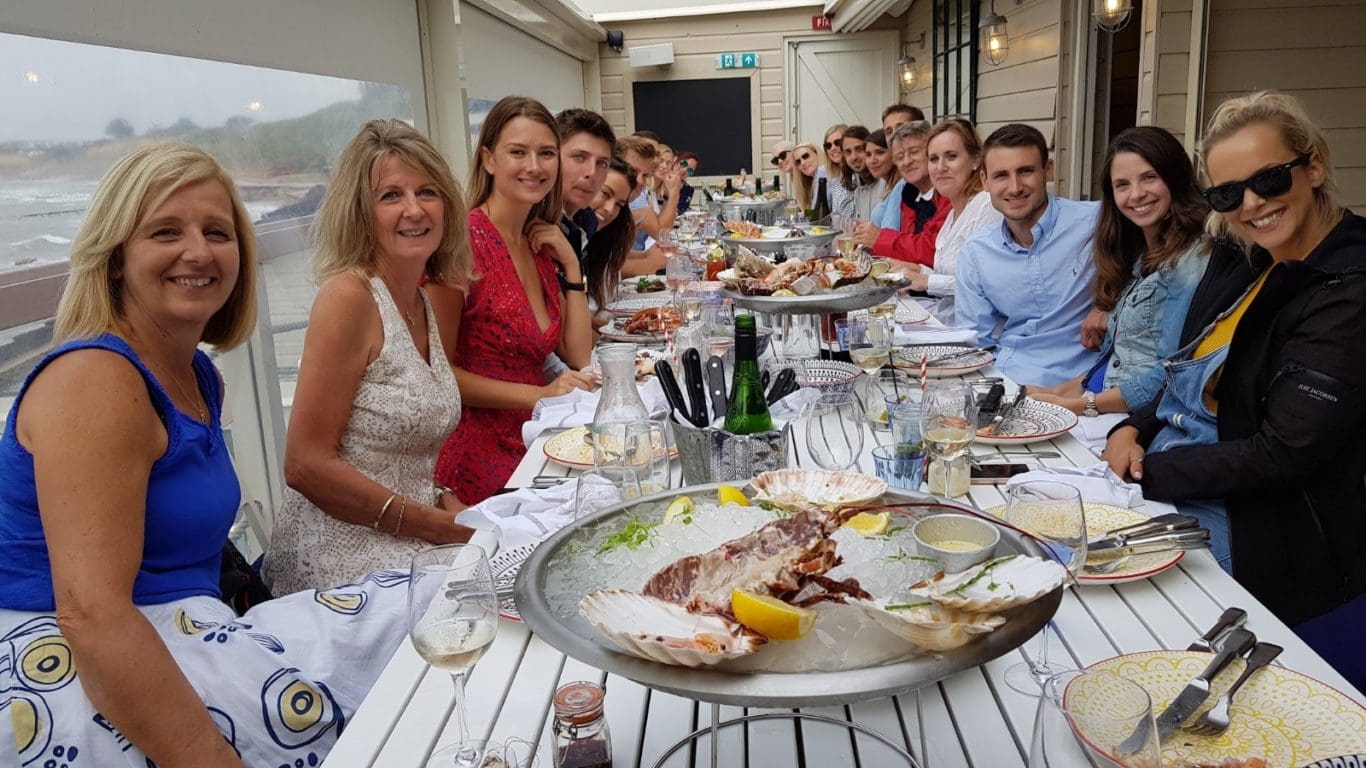 The food is of a very high quality which we can attest to having eaten there more than a few times ourselves. The menu features specials such as sea food platters and very good steaks, salads and fries. As ordered for a recent event and which we would thoroughly recommend. But you can check out the menu on their Website for lots of other options including vegetarian dishes.
Now for the really great thing about the Hut, that is you can get there by boat and drop anchor in Colwell Bay. The Hut then operates a free inflatable boat ferry service that will pick up from anchored boats and take guests ashore. There are steps on the sea wall that make it easy to step off and head straight into the restaurant.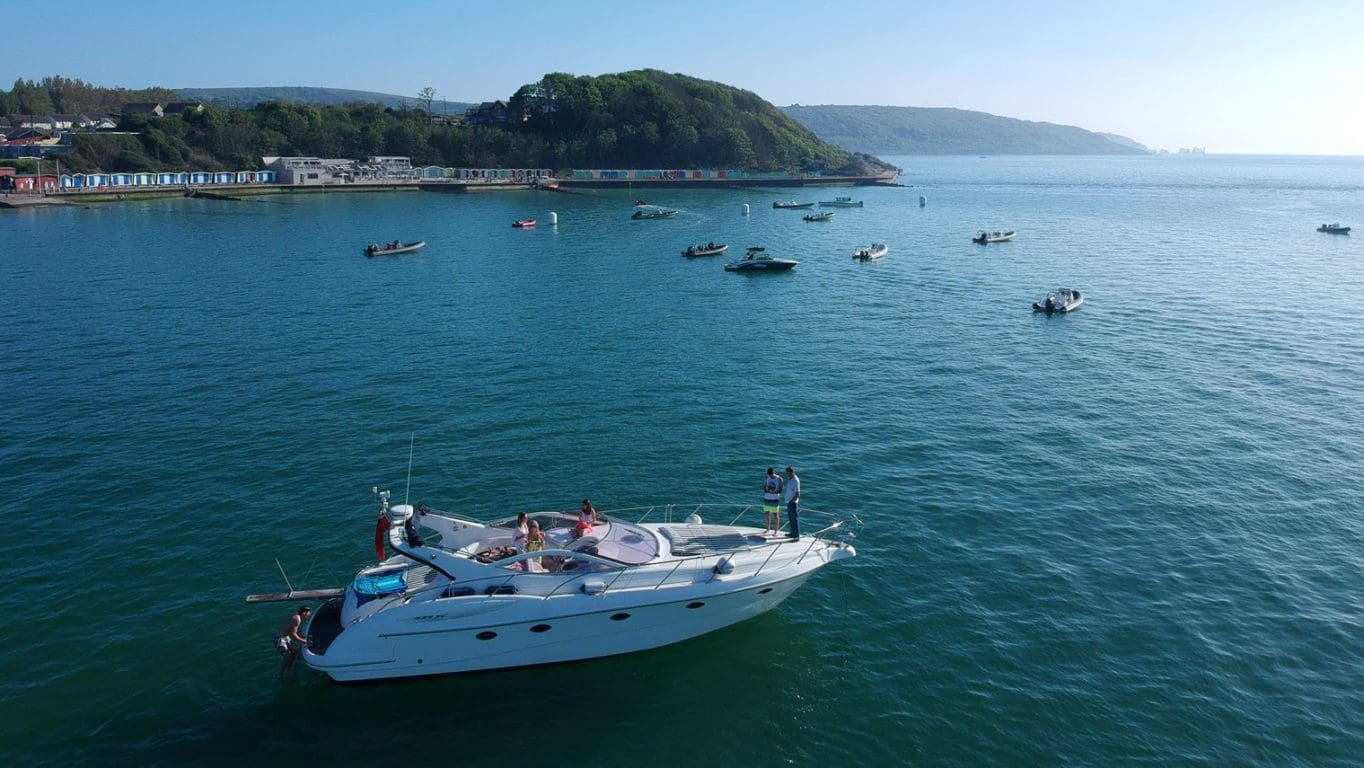 Now as you might imagine, this all means that it's a great place to see, and also be seen, with some fabulous boats gathering there on sunny weekends. So take note, arriving wet through on a RIB just wouldn't cut it! It's best to arrive in style on board a luxury cruiser.
In the last three years the Hut has become better known and is now very popular at weekends, it's therefore essential to book in advance.
Trips to the Hut with Hamble Powerboat Charters are from Hamble village on the River Hamble. A distance of approximately 40 miles return, so you'll get a fast run West down the Solent as part of your trip.
Sound good? Contact us for more info.
We are in no way affiliated to the Hut and these are our own independent reviews.